C.R. Hoffmann Southampton
von Thorsten Totzke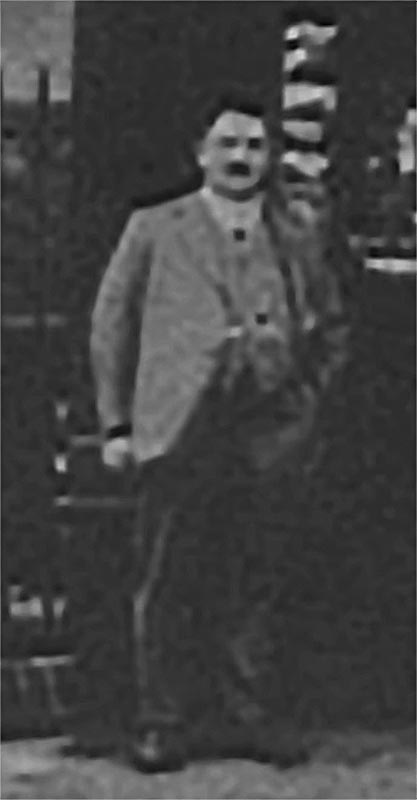 Charles Reginald Hoffmann
Sammlung Thorsten Totzke

Sammler von Oceanliner Postkarten haben meistens einige Postkarten in der Sammlung auf denen unter dem Bild "C.R. Hoffmann Southampton" steht. Es handelt sich um Fotopostkarten in einer sehr hohen Qualität.
Aber wer war dieser "C.R. Hoffmann"?
Charles Reginald Hoffmann wurde 1879 in Southampton geboren. Seine Eltern waren George Heinrich Hoffmann, aus Heidelberg in Deutschland und Mary Ann Hoffmann (geboren Lanham) aus Southampton.
George kam als Steward auf einem Schiff nach Southampton und verliebte sich in Mary Ann.
Sie eröffneten ein Obst und Gemüse Geschäft und bekamen einige Kinder. 1864 wurde Elionara geboren, gefolgt von George 1866, Christian 1868, Matilda 1870, Marie 1873, Florence 1878, Charles Reginald 1879, Hermann 1880 und Stanley 1885.
George wechselte das Geschäft und war 1874 als Stoffhändler am Oriental Place 10 tätig. Nur 4 Jahre später eröffnete er unter dieser Adresse das Dock Hotel und war nun Hotel Direktor bis 1909.
Charles Reginald arbeitete wie seine Brüder und Schwestern im Familienbetrieb. Ab 1908 war er dann als Besitzer des "Rose, Shamrock and Thistle" in der P.H. Lower Bridge Road registriert. Diesen Pub führte er bis 1919.
1903 hatte er Annie Fripp geheiratet und nur ein Jahr später am 6. Juni 1904 wurde ihr Sohn Origen William geboren.
1919 verkaufte er den Pub und kaufte von dem Geld ein Jahr später den Tabakladen von Mrs. Elizabeth Capon in der Oxford Strreet 44.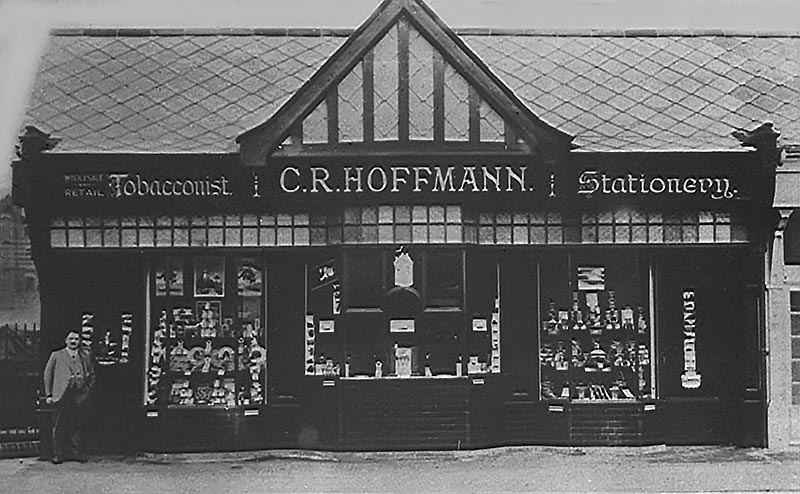 C.R. Hoffmannn vor seinem ersten Laden
Sammlung Thorsten Totzke

Origen William Hoffmann verließ das Gymnasium und begann im Laden seins Vaters zu arbeiten. Er erinnerte sich an den Laden als ein Geschäft welches hochwertige Zigarren, Tabak, Pfeifen aber auch Spazierstöcke für Gentleman und Süßigkeiten für Kinder im Angebot hatte.
In den ersten Jahren hatte Hoffmann auch Postkarten des bekannten Fotografen F.G.O. Stuart im Angebot.
1924 hatte Charles genug Geld um seinen zweiten Laden an der Central Road 1 zu eröffnen. Nun begann er auch damit eigene Postkarten zu verkaufen und auf seinem Schild stand neben Tabakhändler nun auch Postkarten Verlag.
Den Druck der Postkarten übernahm die Druckerei Wildt and Kray. Sie produzierten alle Postkarten für Hoffmann. Bestellt wurden die Karten immer in Paketen zu 1000 Stück und der Vorkriegspreis betrug dafür 38 Shilling.
Es war aber besser bei kleinen Schiffen die Sich nicht so gut verkauften nur Pakete von 250 Stück zu bestellen.
Populäre Karten wie die Nummer 1001 welche die Majestic zeigt wurden in mehreren Auflagen bestellt.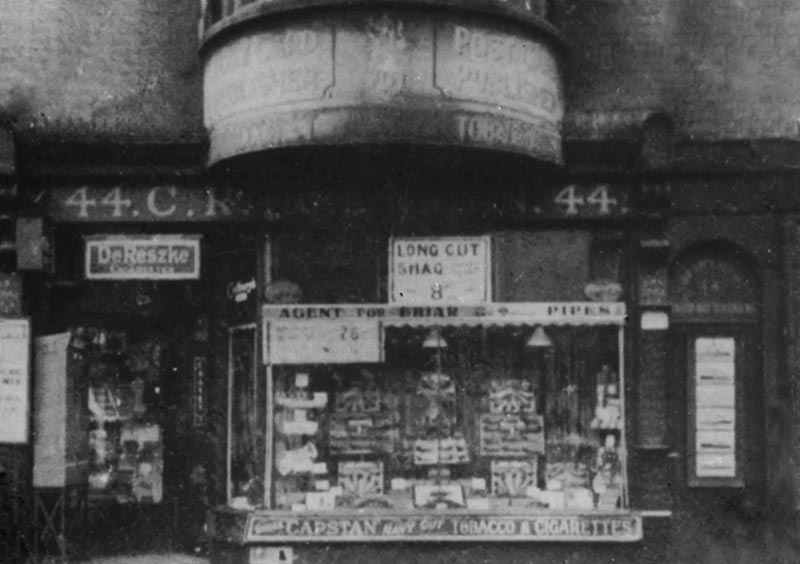 Ein Laden von Hoffmann
Sammlung Thorsten Totzke

Zwei Jahre später heiratete Origen seine Olive und das junge Paar kaufte sein erstes Auto, einen Austin 7 für 11 Pfund.
Origen arbeitete die ganze Zeit in den Läden seines Vaters. Die nächsten Shops wurden 1928 in der Boundary Road 7, in der Herbert Walker Avenue, New Docks 104/105 und 1933 Graving Docks 7 eröffnet.
Mitte der dreißiger Jahre hatte Hoffmann also 6 Shops in Southampton in denen 18-20 Junge Frauen angestellt waren. Dazu kamen 6 mobile Stände die an strategische Stellen in Southampton aufgestellt wurden und von Jungen in einer Art Uniform betrieben wurden. Die Mützen er Jungen zierten kleine Metallbustaben die "CRH" darstellten. Die Jungen schrien die Namen der Schiffe heraus und den Preis von "Sieben für einen Shilling".
Die Postkarten wurden für Stück 2 Pence und eben 7 für einen Shilling verkauft. Es gab auch große Souvenir-Postkarten im Format 16*25 cm für je 6 Pence.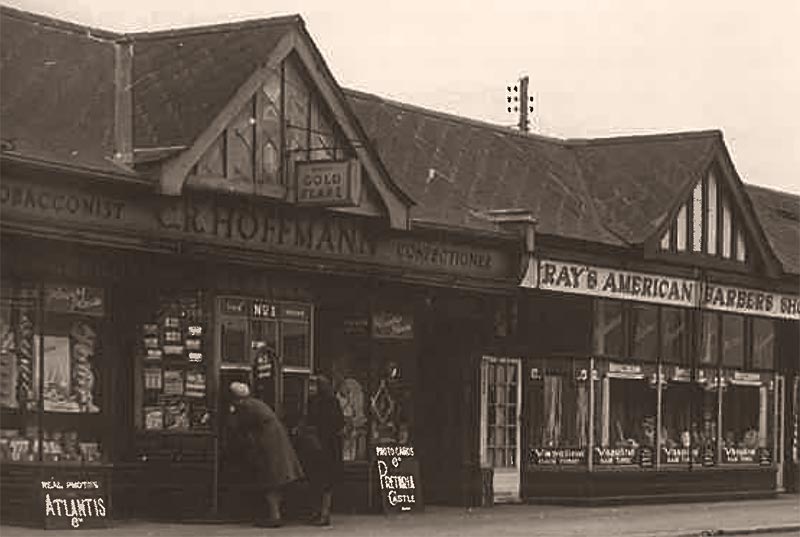 Ein Laden von Hoffmann
Sammlung Thorsten Totzke

Zu dieser Zeit wurden mit den Postkarten rund 100 Pfund täglich eingenommen. Das entspricht rund 13000 verkauften Karten jeden Tag. In der gesamten Zeit muss Hoffmann mehr als 50 Millionen Postkarten verkauft haben.
Charles konzentrierte sich auf den Laden in der Oxford Street und Origen auf die anderen. Origen führte auch den Verkauf von Süßigkeiten in extra gedruckten Pinkfarbenen Tüten ein und den Verkauf von Coca Cola. Dazu gab es Sachen wie Puppen oder Deckstühle.
1941 wurde der Laden in der Central Road bei einem Bomben Angriff zerstört, konnte aber kurze Zeit später wieder eröffnet werden.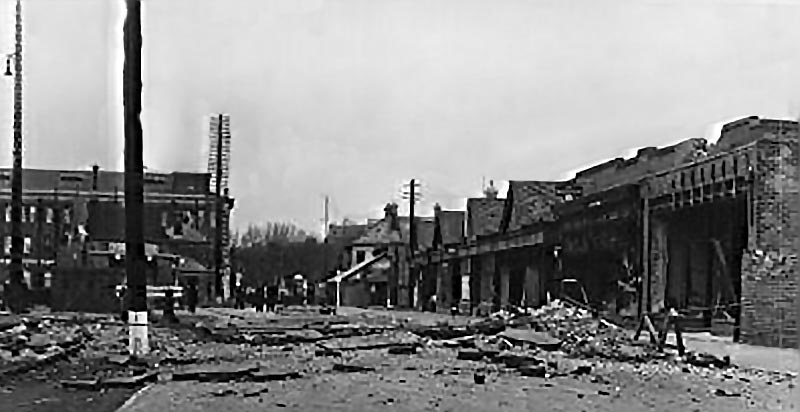 Der Laden nach dem Bombenangriff
Sammlung Thorsten Totzke

Charles Reginald Hoffmann starb am 4 März 1952 mit 73 Jahren und sein Sohn Origen wurde der neue Eigentümer des Unternehmens.
Origen verkaufte auch weiterhin die Karten seines Vaters und brachte auch einige eigene unter "O.W. Hoffmann Southampton" heraus.
Das Ende näherte sich als die großen Oceanliner nach und nach weniger wurden weil die Flugzeuge die Reise drastisch verkürzt hatten. Dadurch wurden die Menschenmengen in Southampton natürlich auch erheblich weniger. Keine Passagiere, keine Besatzungsmitglieder und keine Besucher mehr.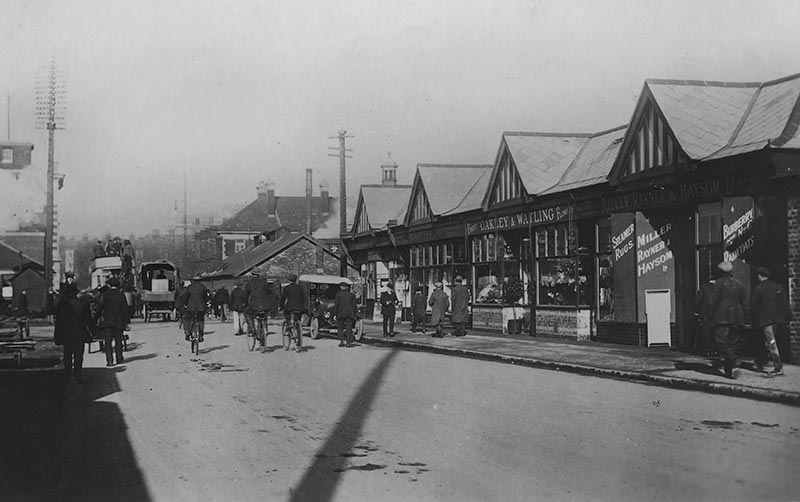 Der Laden vor dem das Auto steht ist der von C.R. Hoffmann
Sammlung Thorsten Totzke

Origen musste einen Laden nach dem anderen schließen und 12 Jahre nach dem Tod seines Vaters verkaufte er den letzten Laden mit allem was sich darin befand und ging in den Ruhestand.
Er lebte noch viele Jahre in Southampton wo er im Jahr 2001 im Alter von 97 Jahre verstarb.
was übrig geblieben ist sind viele millionen Postkarten die immer an "C.R. Hoffmann Southampton" erinnern.

Original Postkartenhülle von Hoffmann
Sammlung Thorsten Totzke


Original Postkartenhülle für große Karten von Hoffmann
Sammlung Thorsten Totzke


Bisher bekannte Postkarten von CR Hoffmann

| | | |
| --- | --- | --- |
| | 1000 | - |
| | 1001 | R.M.S. Majestic |
| | 1002 | - |
| | 1003 | R.M.S. Mauretania |
| | 1004 | Melita |
| | 1005 | R.M.S. Minnedosa |
| | 1006 | - |
| | 1007 | S.S. Corinthic |
| | 1008 | S.S. Rembrandt |
| | 1009 | S.S. Athenic |
| | 1010 | - |
| | 1011 | S.S. Empress of France |
| | 1012 | S.S. Balmoral Castle |
| | 1013 | S.S. Saxon |
| | 1014 | Largest Floating DRY DOCK in the World |
| | 1015 | R.M.S.P. Orbita |
| | 1016 | S.S. Ausonia |
| | 1017 | - |
| | 1018 | S.S. Andania |
| | 1019 | R.M.S.P. Orduna |
| | 1020 | R.M.S. Aquitania |
| | 1021 | - |
| | 1022 | - |
| | 1023 | R.M.S. Olympic |
| | 1024 | - |
| | 1025 | The Royal Pier Southampton |
| | 1026 | S.S. Leviathan |
| | 1027 | - |
| | 1028 | R.M.S. Berengaria |
| | 1029 | Lancastria |
| | 1030 | R.M.S.P. Arcadian |
| | 1031 | R.M.S.P. Ohio |
| | 1032 | - |
| | 1033 | R.M.S.P. Andes |
| | 1034 | - |
| | 1035 | R.M.S.P. Orca |
| | 1036 | - |
| | 1037 | R.M.S. Berengaria |
| | 1038 | - |
| | 1039 | R.M.S. Homeric |
| | 1040 | R.M.S. Homeric |
| | 1041 | S.S. Ascania |
| | 1042 | Empress of Scotland |
| | 1043 | S.S. Jan Pieterzoon Coen |
| | 1044 | S.S. Tambora |
| | 1045 | R.M.S. Majestic in Floating Dry Dock |
| | 1046 | High Street, Southampton |
| | 1047 | The Bargate, Southampton |
| | 1048 | The Western Esplanade |
| | 1049 | The Common, Southampton - Showing the Famous Cowherds Inn |
| | 1050 | The Avenue Southampton |
| | 1051 | Tudor house Southampton |
| | 1052 | The Southampton War Memorial in Watts Park |
| | 1053 | - |
| | 1054 | The Old Walls Southampton |
| | 1055 | Royal Pier |
| | 1055 | S.S. Grotius |
| | 1056 | - |
| | 1057 | - |
| | 1058 | - |
| | 1059 | - |
| | 1060 | - |
| | 1061 | - |
| | 1062 | - |
| | 1063 | - |
| | 1064 | - |
| | 1065 | - |
| | 1066 | S.S. Rindjani |
| | 1067 | - |
| | 1068 | S.S. Rembrandt |
| | 1069 | S.S. Johan de Witt |
| | 1070 | - |
| | 1071 | - |
| | 1072 | S.S. Kawi |
| | 1073 | S.S. Insulinde |
| | 1074 | - |
| | 1075 | - |
| | 1076 | S.S. Patria |
| | 1077 | Pittsburg |
| | 1078 | - |
| | 1079 | - |
| | 1080 | - |
| | 1081 | - |
| | 1082 | - |
| | 1083 | - |
| | 1084 | H.M.T. Neuralia |
| | 1085 | H.M.T. Neuralia |
| | 1085 | H.M.T. Nevasa |
| | 1086 | H.M.T. Nevasa |
| | 1087 | S.S. Prinses Juliana |
| | 1088 | - |
| | 1089 | - |
| | 1090 | S.S. Arundel Castle |
| | 1091 | - |
| | 1092 | S.S. Slamat |
| | 1093 | S.S. Araguaya |
| | 1094 | - |
| | 1095 | - |
| | 1096 | R.L.M. Indrapoera |
| | 1097 | R.M.M.V. Asturias |
| | 1098 | R.M.S. Arabic |
| | 1099 | U.C.M.S. Carnarvon Castle |
| | 1100 | R.M.M.V. Alcantara |
| | 1101 | R.M.M.V. Alcantara |
| | 1101 | S.S. Empress of Australia |
| | 1102 | - |
| | 1103 | - |
| | 1104 | - |
| | 1105 | City of Marseilles |
| | 1106 | - |
| | 1107 | S.S. Leviathan |
| | 1108 | - |
| | 1109 | S.S. Kenilworth Castle |
| | 1110 | - |
| | 1111 | S.S. Montroyal |
| | 1112 | S.S. Megantic |
| | 1113 | H.M.T. Doretshire |
| | 1114 | S.S. Alaunia |
| | 1115 | S.S. Carinthia |
| | 1116 | Laconia |
| | 1117 | S.S. Aurania |
| | 1118 | S.S. Carmania |
| | 1119 | - |
| | 1120 | R.M.S. Orvieto |
| | 1121 | S.S. Ormonde |
| | 1122 | R.M.S. Otranto |
| | 1123 | R.M.S. Orford |
| | 1124 | - |
| | 1125 | S.S. Caronia |
| | 1126 | - |
| | 1127 | - |
| | 1128 | - |
| | 1129 | S.S. Belgenland |
| | 1130 | Pennland |
| | 1131 | Lapland |
| | 1132 | S.S. Arabic |
| | 1133 | S.S. Calgaric |
| | 1134 | - |
| | 1135 | - |
| | 1136 | - |
| | 1137 | - |
| | 1138 | - |
| | 1139 | - |
| | 1140 | Moreton Bay |
| | 1141 | R.M.S. Mataora |
| | 1142 | - |
| | 1143 | - |
| | 1144 | S.S. Bremen |
| | 1145 | Bridewell Gate and Gods House |
| | 1145 | R.M.S. Aquitania Garden Lounge |
| | 1146 | R.M.S. Majestic First Class lounge |
| | 1147 | S.S. Majestic First Class swiming Bath |
| | 1148 | S.S. Leviathan Swimming Pool |
| | 1149 | S.S. Majestic First Class dining Room |
| | 1150 | S.S. Leviathan Gymnasium |
| | 1151 | S.S. Majestic First Class smoking Room |
| | 1152 | S.S. Leviathan First Class Smoking Room |
| | 1153 | S.S. Leviathan First Class Dining Saloon |
| | 1154 | R.M.S. Majestic First Class Restaurant |
| | 1155 | R.M.S. Olympic First Class Smoking Room |
| | 1156 | R.M.S. Berengaria First Class Lounge |
| | 1157 | R.M.S. Olympic First Class Dining Saloon |
| | 1158 | R.M.S. Aquitania First Class Lounge |
| | 1159 | R.M.S. Mauretania First Class Dining Saloon |
| | 1160 | R.M.S. Aquitania Carolean Smoking Room |
| | 1161 | R.M.S. Olympic First Class Lounge |
| | 1162 | R.M.S. Berengaria First Class Smoking Room |
| | 1163 | R.M.S. Homeric First Class Lounge |
| | 1164 | R.M.S. Berengaria First Class Dining Saloon |
| | 1165 | R.M.S. Homeric First Class First Class Dining Saloon |
| | 1166 | R.M.S. Mauretania First Class Smoking Room |
| | 1167 | R.M.S. Aquitania First Class Restaurant |
| | 1168 | R.M.S. Homeric First Class Smoking Room |
| | 1169 | R.M.S. Mauretania Verandah Cafe |
| | 1170 | R.M.S. Berengaria Swimming Bath |
| | 1171 | R.M.S. Olympic First Class Restaurant |
| | 1172 | R.M.S. Mauretania First Class Lounge |
| | 1173 | R.M.S. Aquitania Grill Room |
| | 1174 | - |
| | 1175 | M.S. Pieter Corneliszoon Hooft |
| | 1175 | M.S. Sibajak |
| | 1176 | R.M.M.V. Winchester Castle |
| | 1177 | - |
| | 1178 | St. Briac |
| | 1179 | Southern RLY Co. Cross Channel Steamer Isle of Jersey |
| | 1180 | - |
| | 1181 | Southern RLY Co. Cross Channel Steamer Dinard |
| | 1182 | - |
| | 1183 | S.S. Leviathan Nigth Club |
| | 1184 | - |
| | 1185 | Empress of Britain |
| | 1186 | - |
| | 1187 | Empress of Britain First Class Children Playroom |
| | 1188 | Empress of Britain Cathay Lounge |
| | 1189 | Empress of Britain Mayfair |
| | 1190 | Empress of Britain Knickerbocker Bar |
| | 1191 | Empress of Britain First Class Entrance Hall |
| | 1192 | Empress of Britain The Mall |
| | 1193 | R.M.S. Olympic First Class Verandah Cafe |
| | 1194 | Empress of Britain Olympian Pool |
| | 1195 | Empress of Britain Empress Room |
| | 1196 | White Star Line R.M.S. HOMERIC Grand Staircase |
| | 1197 | Homeric Verandah Cafe |
| | 1198 | Mauretania - First Class writing Room |
| | 1199 | R.M.S. Berengaria Ballroom |
| | 1200 | Southern Railway Isle of Sark |
| | 1201 | S.S. Arandora Star |
| | 1202 | S.S. Doric |
| | 1203 | Aerial view of Southampton Docks |
| | 1204 | Empress of Britain Salle Jaques Cartier |
| | 1205 | R.M.S. Majestic Palm Court |
| | 1206 | R.M.S. Majestic |
| | 1207 | Majestic |
| | 1208 | Empress of Australia First Class smoking Room |
| | 1209 | Empress of Australia |
| | 1210 | Empress of Australia First Class Drawing Room |
| | 1211 | Empress of Australia First Class Lounge |
| | 1212 | Empress of Australia First Class Ballroom |
| | 1213 | Empress of Australia Prince of Wales Suite |
| | 1214 | - |
| | 1215 | P&O Electro-Turbine Liner Strathaird |
| | 1216 | P&O Electro-Turbine Liner Stratnaver |
| | 1217 | S.S. Largs Bay |
| | 1218 | S.S. Esperance Bay |
| | 1219 | S.S. Wangoni |
| | 1220 | M.S. Johnan van Oldenbarnevelt |
| | 1221 | S.S. Moreon Bay |
| | 1222 | S.S. Usaramo |
| | 1223 | Hobsons Bay |
| | 1224 | - |
| | 1225 | S.S. Njassa |
| | 1226 | S.S. Ussukuma |
| | 1227 | Comorin |
| | 1228 | Somersetshire |
| | 1229 | H.M.T. Lancashire |
| | 1230 | M.S. Marnix van Sint Aldegonde |
| | 1231 | Tamoroa |
| | 1232 | Columbus |
| | 1233 | - |
| | 1234 | Samaria |
| | 1235 | Franconia |
| | 1236 | S.S. Westernland |
| | 1237 | Mauretania |
| | 1238 | M.S. Baloeran |
| | 1239 | S.S. Ubena |
| | 1240 | M.S. Dempo |
| | 1241 | S.S. Watussi |
| | 1242 | Christiaan Huygens |
| | 1243 | - |
| | 1244 | S.S. Carinthia |
| | 1245 | R.M.S. Arakora |
| | 1246 | Cunard White Star M.V. Britannic |
| | 1247 | S.S. Normandie |
| | 1248 | S.S. Normandie First Class Smoking Room |
| | 1249 | Normandie |
| | 1250 | Normandie - First Class Saloon |
| | 1251 | S.S. Normandie The Bridge |
| | 1252 | Normandie |
| | 1253 | Normandie a 1st class Luxury Bedroom |
| | 1254 | R.M.S. Orion |
| | 1255 | - |
| | 1256 | Stirling Castle |
| | 1257 | - |
| | 1258 | - |
| | 1259 | The King George V. Graving Dock |
| | 1260 | Queen Mary the largest |
| | 1260 | Queen Mary the second largest |
| | 1261 | Queen Mary |
| | 1262 | M.V. Athlone Castle |
| | 1263 | Queen Mary |
| | 1264 | Queen Mary Cabin Library |
| | 1265 | Queen Mary Corner of Cabin Smoking Room |
| | 1266 | Queen Mary Cabin Childrens Playroom |
| | 1267 | Queen Mary Cabin Special Suite of Sitting Rooms |
| | 1268 | Queen Mary Main Cabin Shopping Centre |
| | 1269 | Queen Mary Cabin Starboard Gallery |
| | 1270 | Queen Mary Cabin Restaurant |
| | 1271 | Queen Mary Cabin Observation Lounge and Cocktail Bar |
| | 1272 | Queen Mary |
| | 1273 | - |
| | 1274 | Queen Mary Cabin Swimming Pool |
| | 1275 | Queen Mary Cabin Dining Saloon |
| | 1276 | - |
| | 1277 | Warwick Castle |
| | 1278 | Arundel Castle |
| | 1279 | |
| | 1280 | H.M.T. Dunera |
| | 1281 | Windsor Castle |
| | 1282 | - |
| | 1283 | Queen Mary Cabin Cabin Ballroom and Lounge |
| | 1284 | - |
| | 1285 | Mauretania Third Class Lounge |
| | 1286 | Mauretania Cabin Restaurant |
| | 1287 | Mauretania Tourist Dining Saloon |
| | 1288 | Mauretania Third Class Cabin |
| | 1289 | Mauretania Tourist Cinema |
| | 1290 | Mauretania Cabin Grand Hall |
| | 1291 | Mauretania |
| | 1292 | Dominion Monarch |
| | 1293 | Queen Elizabeth Cabin Class Lounge |
| | 1294 | Queen Elizabeth 1st Class Garden Lounge |
| | 1295 | Queen Elizabeth Main Restaurant |
| | 1296 | Queen Elizabeth Main Entrance |
| | 1297 | Queen Elizabeth Cabin Smoking Room |
| | 1298 | Queen Elizabeth 1st Class Cinema |
| | 1299 | Queen Elizabeth Tourist Winter Garden |
| | 1300 | Queen Elizabeth 1st Class Observation Lounge & Cocktail Bar |
| | 1301 | Queen Elizabeth 1st Main lounge |
| | 1302 | Queen Elizabeth Tourist Lounge |
| | 1303 | Queen Elizabeth |
| | 1304 | Queen Elizabeth |
| | 1305 | Queen Elizabeth |
| | 1306 | Winchester Castle |
| | 1307 | R.M.M.V. Warwick Castle |
| | 1308 | Pretoria Castle |
| | 1309 | Andes |
| | 1310 | Caronia |
| | 1311 | Alcantara |
| | 1312 | - |
| | 1313 | New Australia |
| | xx-01 | Bridewell Gate and God's House |